Core Link receives an Extreme Makover
The outdoor environment at Core Link received an 'Extreme Makeover' during autumn / winter 2020/2021 with new and refreshed parking areas, plantings, and signs.
Now it is time for office environment to be upgraded to 2.0. Entrance, customer reception and the offices of Aftermarket  will be renovated from head to toe. Marketing department will also be refreshed.
It is always nice, especially in sad Covid times that have hit hard on certain business, to support local companies and therefore Core Link is extra happy to be able to hire the Event and Installation company Kosmonaut Events, with headquarters in Falkenberg, for our renovation.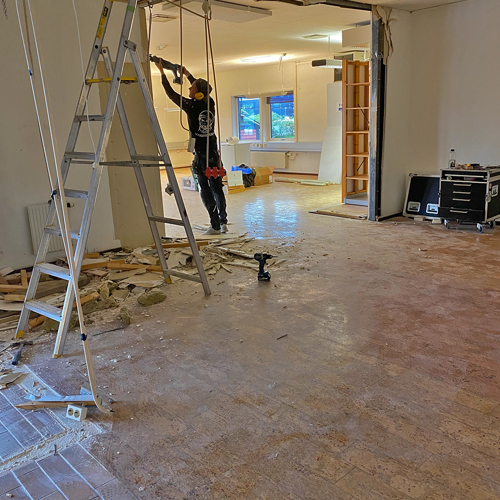 Pre make over

After make-over
Some facts about Kosmonaut Events:
Kosmonaut Events has for over 20 years worked with event production from idea to reality. In recent years, however, we have increasingly worked with fixed installations such as shops and offices with overall responsibility from the sketch and idea stage, via production, printing, production and project management to assembly and evaluation.
The head office is located in Falkenberg with production premises, office space, warehouse and distribution of over 4,000 square meters. The production chain consists of of full-scale carpentry with everything from fine carpentry to computer-controlled production machines. There is also a metal workshop, painting box and large mounting surfaces. We work with all types of metals and materials such as plastics, styrofoam and acrylic. Falkenberg also has a digital printing company that prints and manufactures everything from banners, signs, decals, brochures, banners, flags to textile prints. The printing house also has a sewing department.
https://www.facebook.com/kosmonautevents
https://www.instagram.com/kosmonautevents/
https://www.linkedin.com/company/kosmonaut-events