The roll cutter manages any roll diameter and any paper grade including tissue
It is a revolutionary way to handle your broke and you will get benefits like:
The paper is cut down in layers, which are fed evenly to the pulper. The paper is dissolved faster and this reduces wear and tear on the pulper. The result is less damage, fewer blockages, lower maintenance cost and down time etc.
Smaller pulpers can be used, saving new costly investments
The cores can be reused, saving money
Less manual handling, saving time and giving a better working environment
No hydraulics leaking oil
Takes less floor space compared to standard roll splitters
The machine can be either fully automatic or manual
Different customized models
Workshop test of our best-selling Roll Cutter model CL410, 'the state of art' within Broke Roll Handling:
 

CL 410 with lamella
sliding device

 

Movable CL 410 
on rails

 

 CL 410 with
tilting plate

 

CL 410 with
movable conveyor

Integrated System for Handling of Butt Rolls
In order to reduce the hard manual labour involved when lifting butt rolls at the sheeter and the core stripper, different options can be offered:
Conveyors for transporting the butt rolls to the core stripper/butt roll cutter.
Different loading systems for loading butt rolls from containers to the core stripper.
Conveyors transporting the empty cores to different bins or to a core robot. The core robot sorts the cores into different racks, depending on the length, quality, etc. 
Basic Core Stripper
For butt rolls (20" or less) of different paper grades. Very common in sheeting operations, for eliminate manual stripping/removal of the last several inches of paper on a core.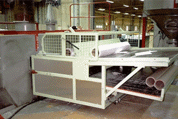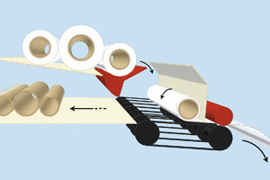 Butt rolls are loaded onto the infeed table. When started, the rolls are fed one by one into the machine, the paper is unwound from the core and the empty core is ejected to a collecting table. The paper may be fed directly to a pulper, to a belt conveyor or existing trim handling system, depending on the requirements.